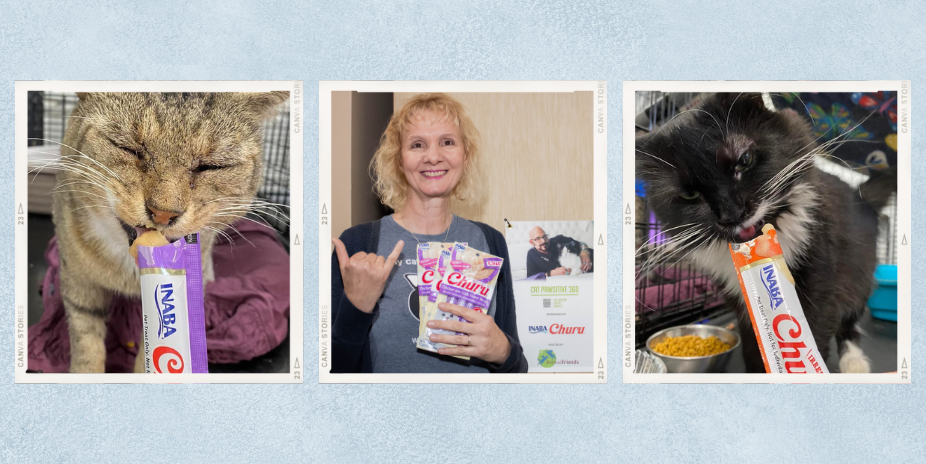 Greater Good Charities And Jackson Galaxy Welcome Sponsor Inaba Churu To Cat Pawsitive 360 Initiative
Seattle, Wash. (October 10, 2023) Today, Greater Good Charities, a global nonprofit, and Jackson Galaxy welcome Inaba Churu, a premium, lickable cat treat brand, to Cat Pawsitive 360, an initiative dedicated to saving more cat lives and improving their well-being in and out of the shelter. The Inaba Churu sponsorship will allow shelters with limited funds to travel to the Cat Pawsitive 360 events, which are being hosted in local communities across the U.S. to engage and immerse animal welfare representatives in a wide range of sheltering topics approached from a cat-centric point of view.   
Cat Pawsitive 360 is an initiative of Greater Good Charities' Jackson Galaxy Project (JGP), founded by Jackson Galaxy, New York Times bestselling author, renowned cat behavior and wellness expert with over 30 years of working in animal shelters, and longtime host of Animal Planet's "My Cat From Hell." The Jackson Galaxy Project is a program of Greater Good Charities that seeks to improve the lives of cats at risk and help the people who care for them through innovative initiatives that educate, inspire, and empower staff, rescuers, and adopters. 
"Our workshops take a 360-degree view of the feline experience on everything from behavioral models to environmental enrichment in order to save more lives and improve the well-being of cats both in and out of the shelter," says Galaxy.  "This generous donation from Inaba Churu will enable shelters to attend Cat Pawsitive workshops, regardless of their travel budget. By removing this barrier to attendance, we're able to work with more animal welfare organizations across the country."   
The Cat Pawsitive 360 events are made possible by The Life of Riley at Spring Point. The next workshop will take place in San Diego in early November, and there are 10 more cities planned throughout 2024.    
These special "by invite only" two-day events cover the following sheltering topics:  
Feline body language and communication

Shelter "Catification"

 

Pathway planning 

 

Intake diversion and pet retention 

 

Adoption counseling 

 

Marketing outreach and strategies 

 

Customer service 

Feline behavior challenges

 

 

 

 

 
To learn more about The Jackson Galaxy Project and Cat Pawsitive 360, please visit: 
https://greatergood.org/jackson-galaxy   
About Greater Good Charities 
Greater Good Charities is a 501(c)(3) global nonprofit organization that works to help people, pets, and the planet by mobilizing in response to need and amplifying the good. Greater Good Charities, with a Four-Star rating on Charity Navigator and a Platinum Seal on GuideStar, has invested more than $575 million in impact, including cash grants, in-kind supplies, and programmatic support to charitable partners in 121 countries since 2007. To learn more about how Greater Good Charities is amplifying the good across the globe, please visit greatergood.org or follow Facebook, Instagram, X, YouTube and TikTok.  
 About Inaba Churu  
INABA brings over two centuries of tradition and excellence to their #1 treat, Churu.  Since its launch in 2012, Churu has helped cat parents create a special bond with their fur babies.  The Churu tube is designed to feed by hand, which promotes interaction and creates those special moments between cat parents and their cats.  Churu can also be used as a topper on traditional dry kibble to provide more hydration or tempt kitties to eat.  It is also the purrfect way to disguise the flavor of medicine or as a treat after pills. At Inaba, we love delighting cats around the world!   
Media Contact:  
Greater Good Charities    
Denise St. Jean
[email protected]  
310.795.4811