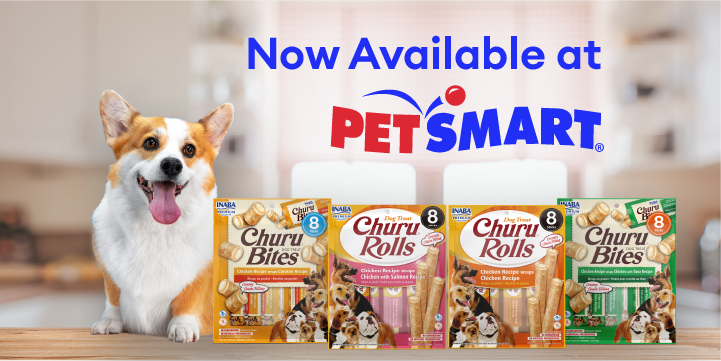 Churu Bites and Rolls for Dogs Now Available at PetSmart
INABA is pleased to announce that you can now find two flavors of our Churu Bites for Dogs and Churu Rolls for Dogs on the shelf at PetSmart.
Your dog will love these treats featuring a soft-baked chicken paste outer "shell" and a tasty Churu filling. Each package contains eight tubes of about 12 bites or a single roll, perfect for packing as on-the-go training treats for dogs of all ages. It also keeps the tasty treats fresh and helps prevent doggy sn-accidents. Even the fussiest puppies will devour them directly from your hand- even if you've used the creamy center to sneak a pill into their special snacks. Free from grains, preservatives, carrageenan, and artificial colors, Churu Bites & Rolls are a healthy, fun treat you can feel good about feeding your canine companions.
Churu Bites: Chicken Recipe and Chicken with Tuna Recipe ($8.99 each 8-pack)
Churu Rolls: Chicken Recipe and Chicken with Salmon Recipe ($8.99 each 8-pack)
US Customers: Also available on PetSmart.com